Tracy Chevalier
Novelist
20 October 2020
Creativity & Design
The Joy of Unstructured Time
Tracy Chevalier is best-known for her international bestseller Girl with a Pearl Earring. She has published 9 other novels, mainly historical fiction. Tracy grew up in Washington DC and moved to London many years ago, where she lives with her husband, son and cat. And Tracy has been an important part of Alexandria's London life… So, this is a special extended episode.Hear how the pandemic has influenced the direction of Tracy's current novel. We talk about things big and small, from storytelling essentials to life & lipstick.
Special thanks to Tracy for writing a new scenario for the Ideal Lifestyle Vision Promo in the middle of this episode!If this isn't hygge I don't know what is!
Tracy's Links
Inspiration
Avocado & Lemon Zest Spaghetti by Anna Jones. This is one of Tracy's favourite recipes. "It's delicious, simple to make and always wonderful".
Wallace & Sewell UK-based British design studio, specialising in bold and colourful textiles. Tracy's favourite accessory in her current wardrobe is a Wallace & Sewell scarf. She wore it on a trip to Paris and said, "I just felt like I could stand amongst the Parisian women who all know how to wear scarves well and hold my head high".
Tracy's Immersive Writing World
She may not have done her KonMari Marathon yet, but Tracy has already embraced an important KonMari concept. She has surrounded herself with joy. Tracy's home studio is the perfect example of this. In creating an immersive world for herself in which to write, she has built joy into her daily life and surroundings…
So I love looking up and going, ahh, you're surrounded with your writing life and reminders of your writing life. And then beyond the cubby holes (on the walls on either side of me), I paste up quotes, photographs and drawings from whatever I'm working on at the time.
Tracy has her very own cabinet of curiosities. Her study features cubby holes, where she curates memorabilia from her books. Yes, there's even one corner that's all Girl with a Pearl Earring "kitsch stuff".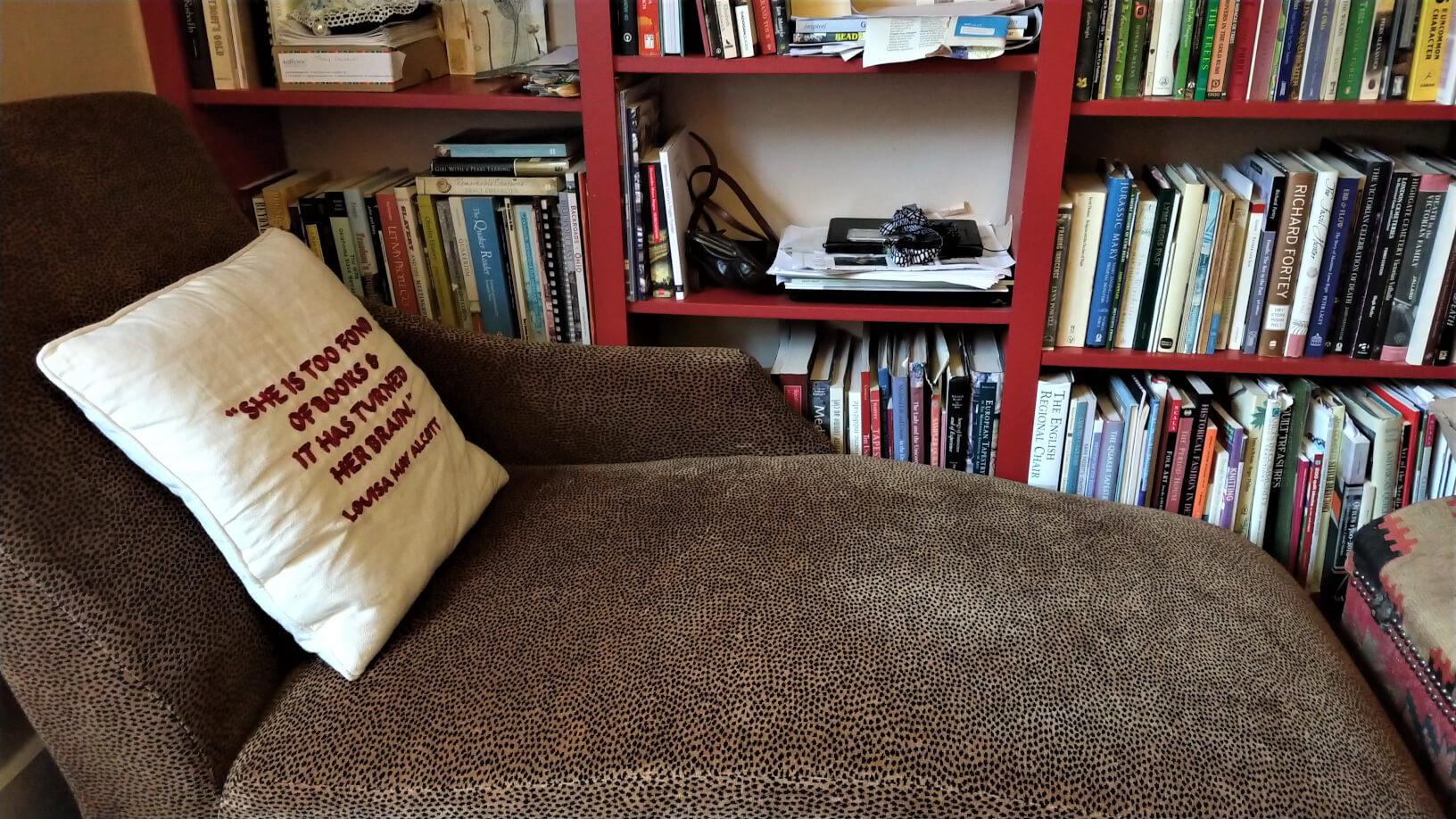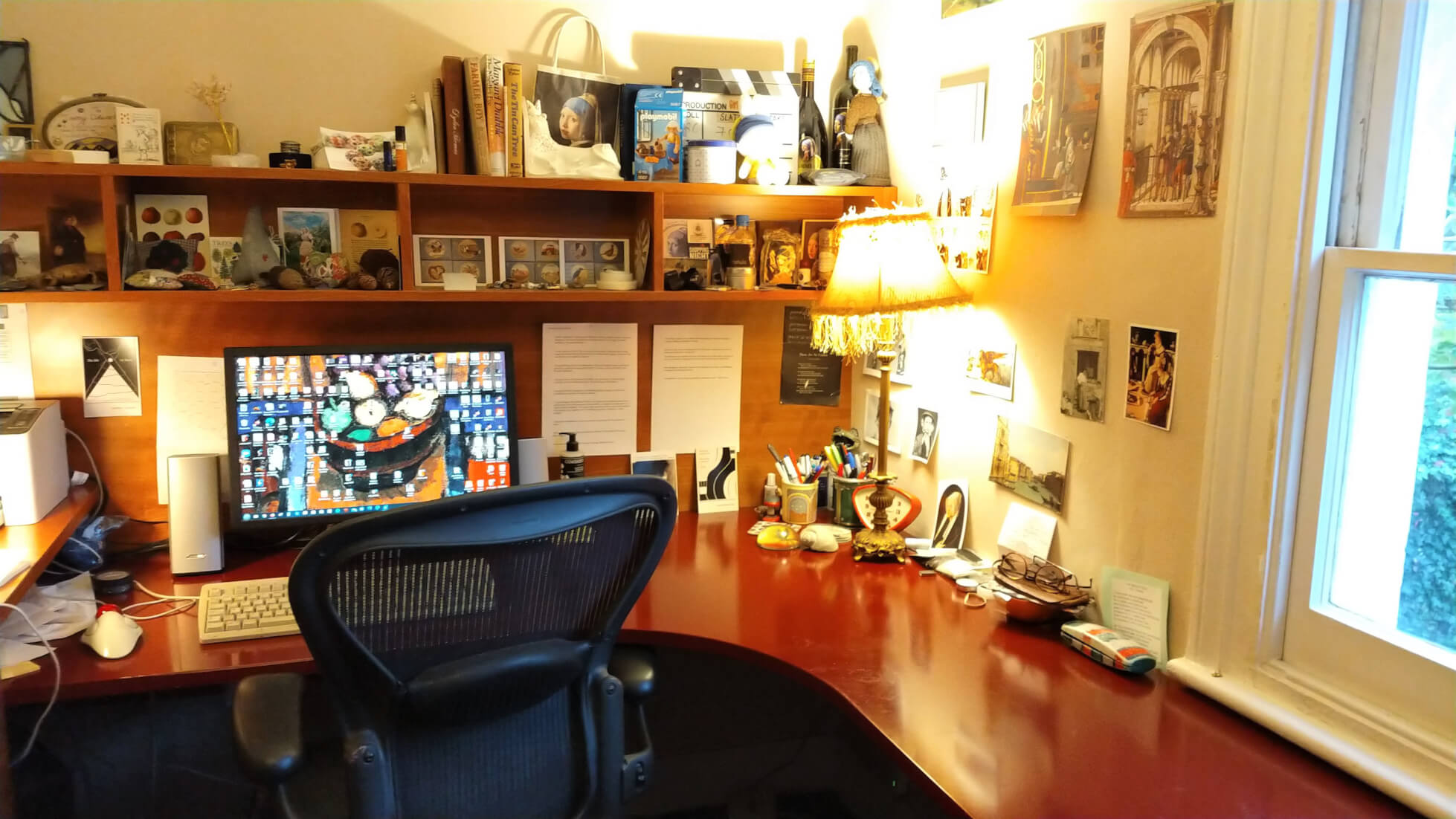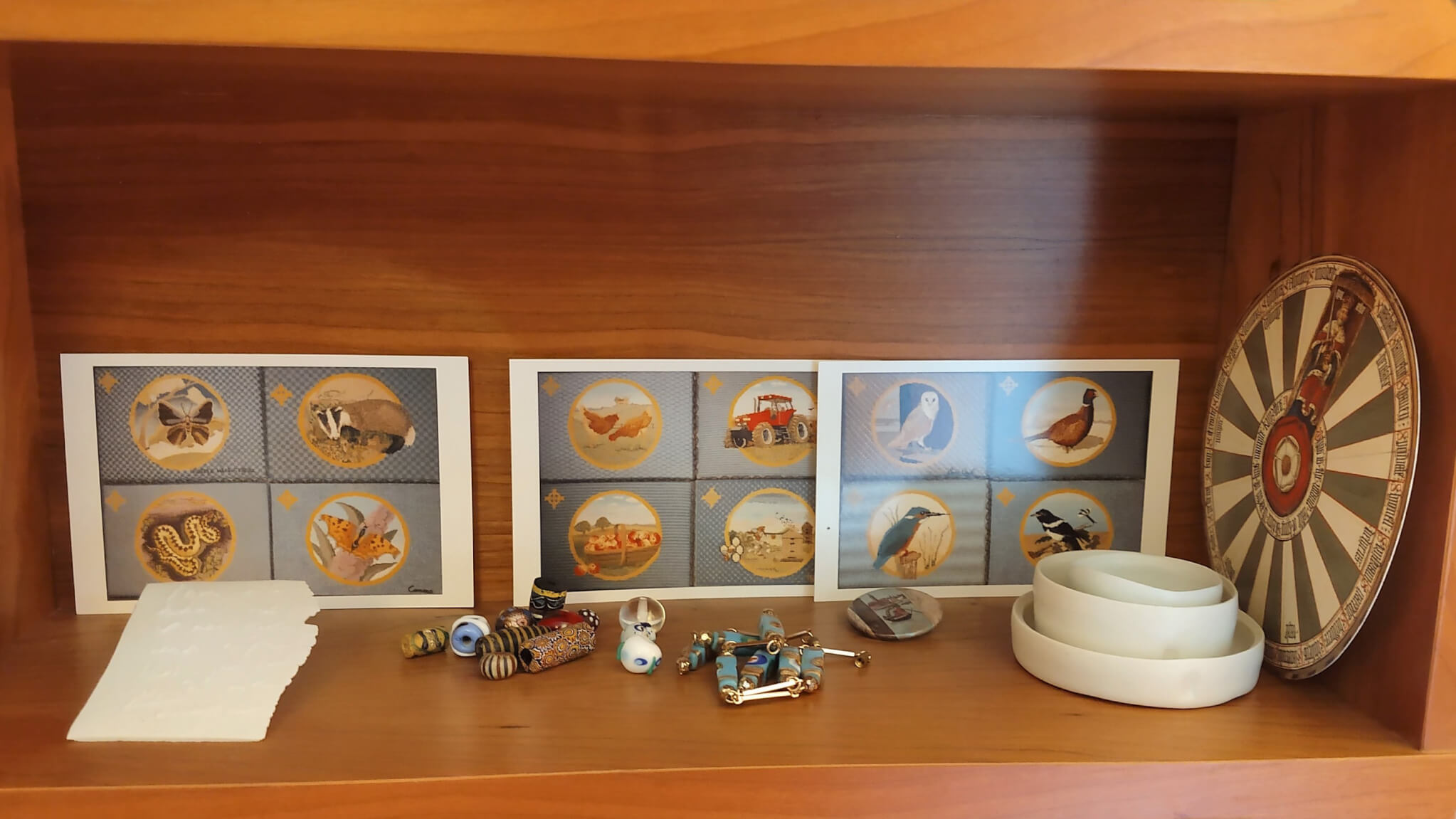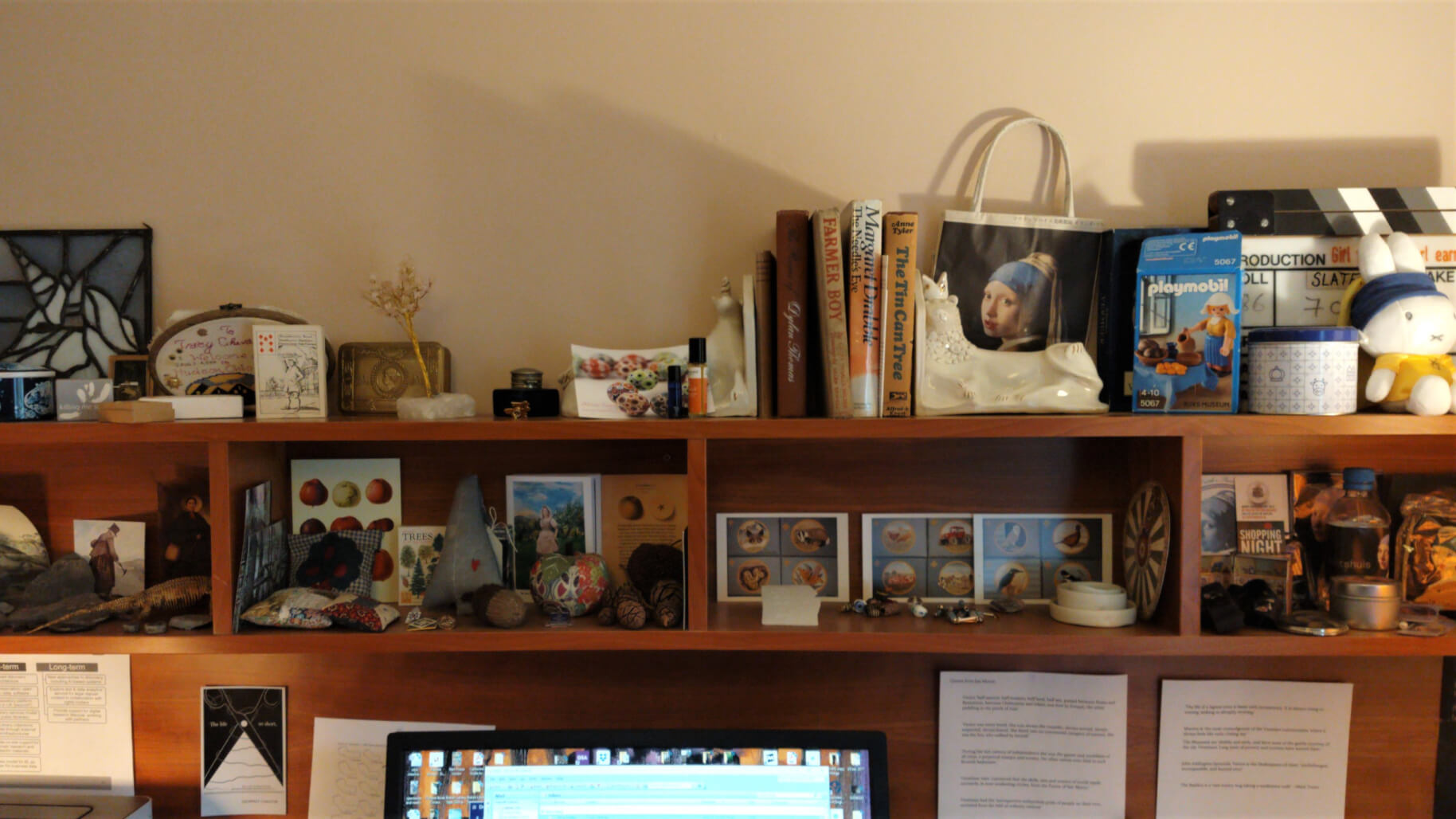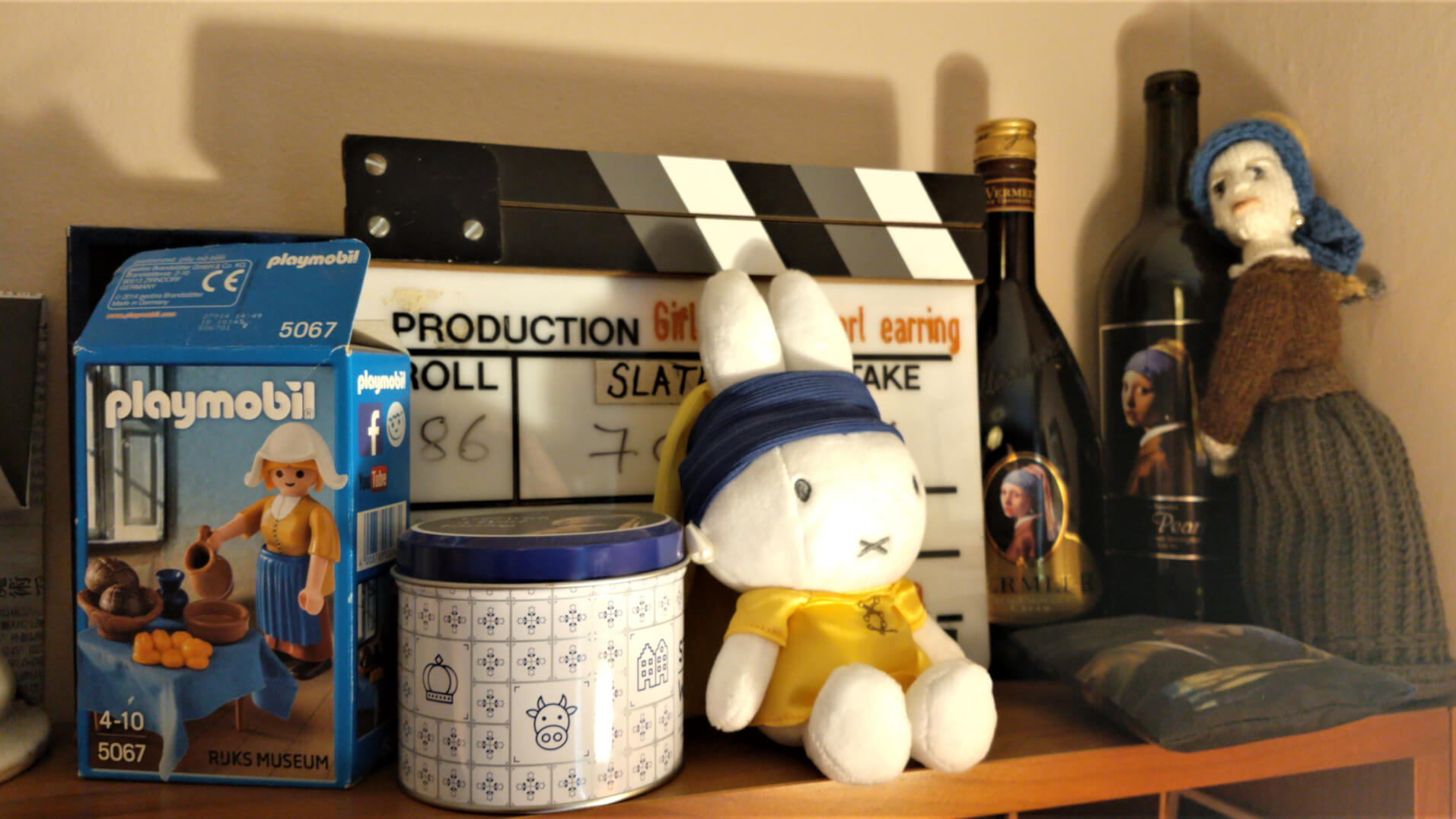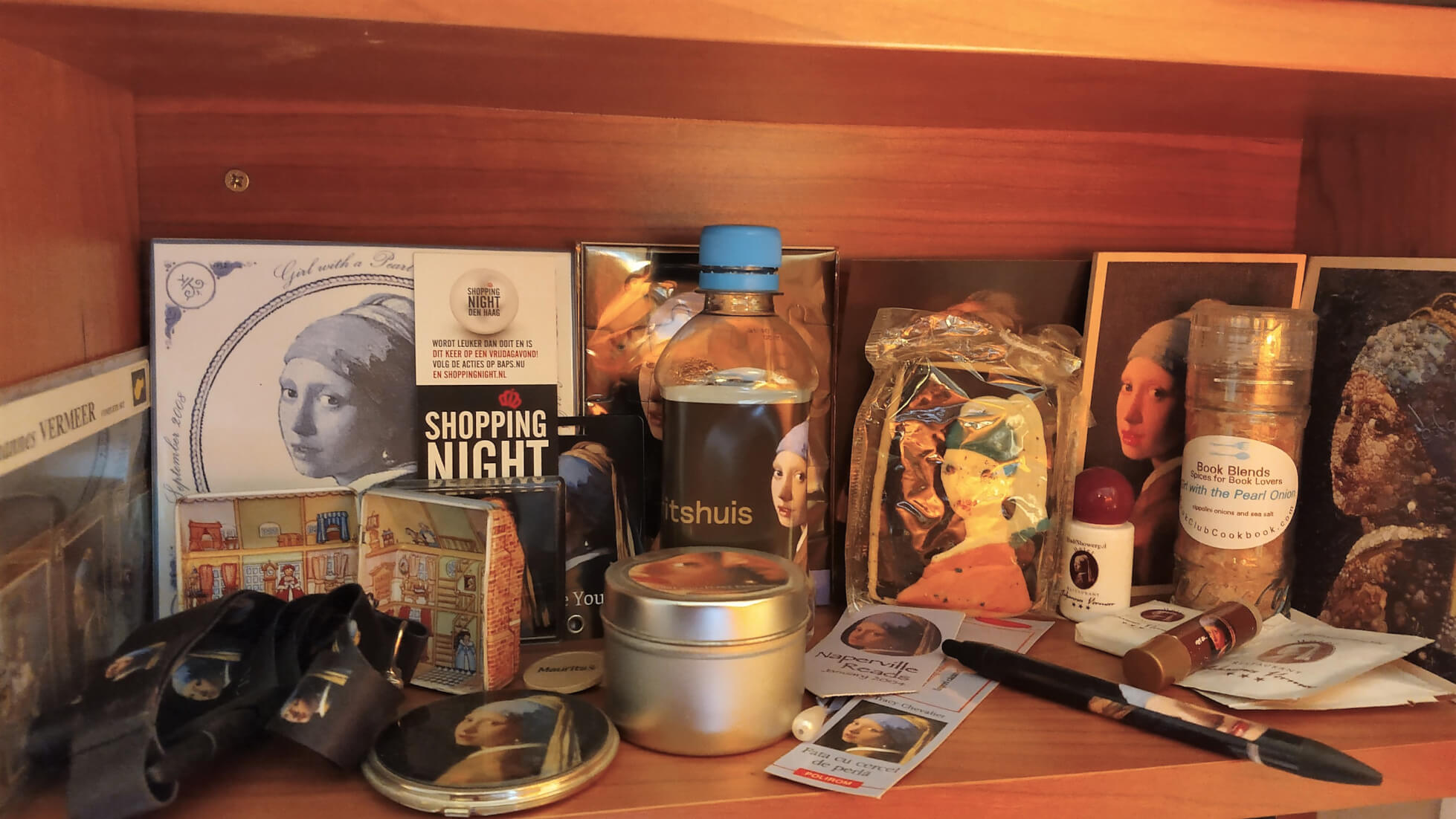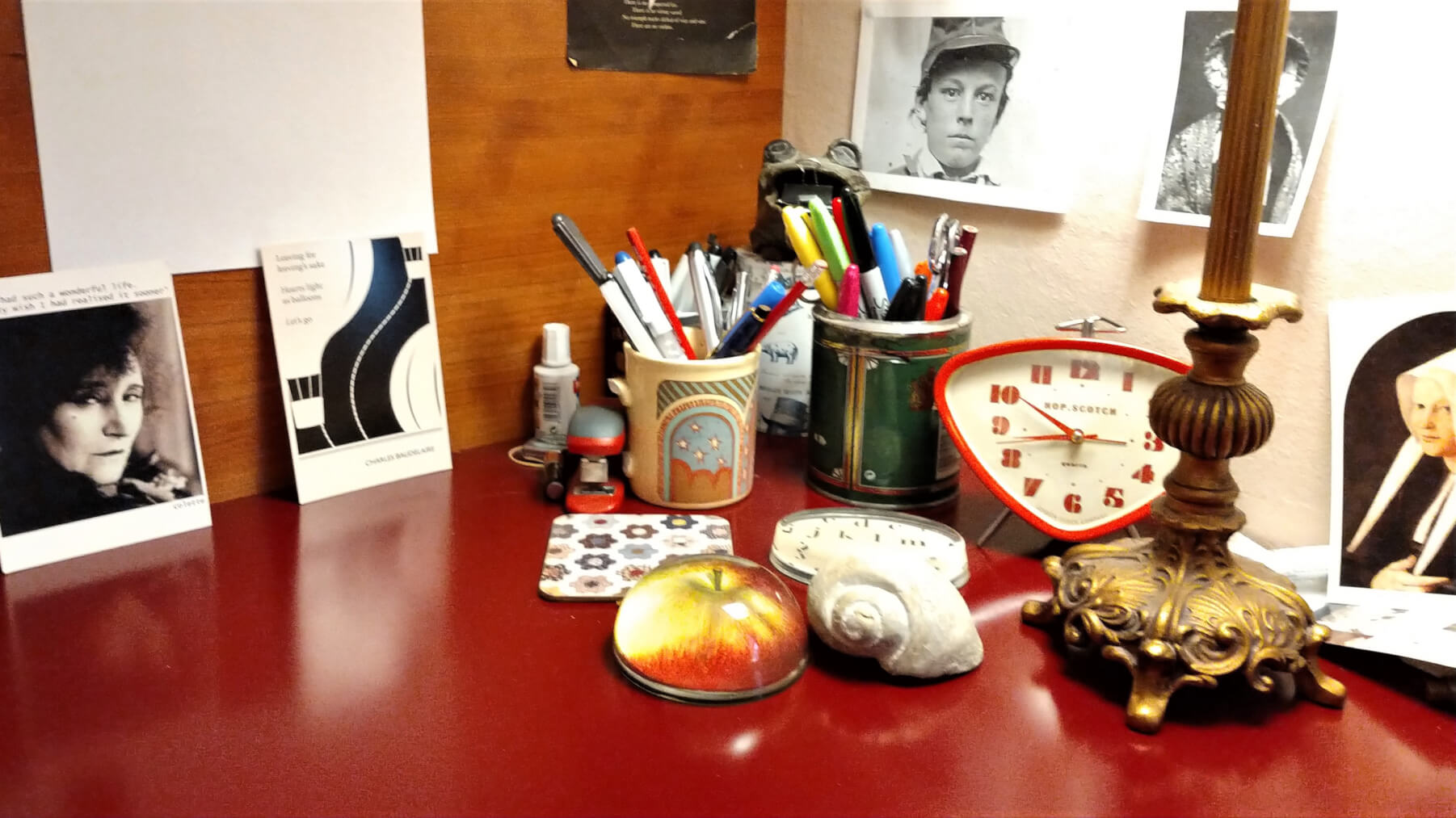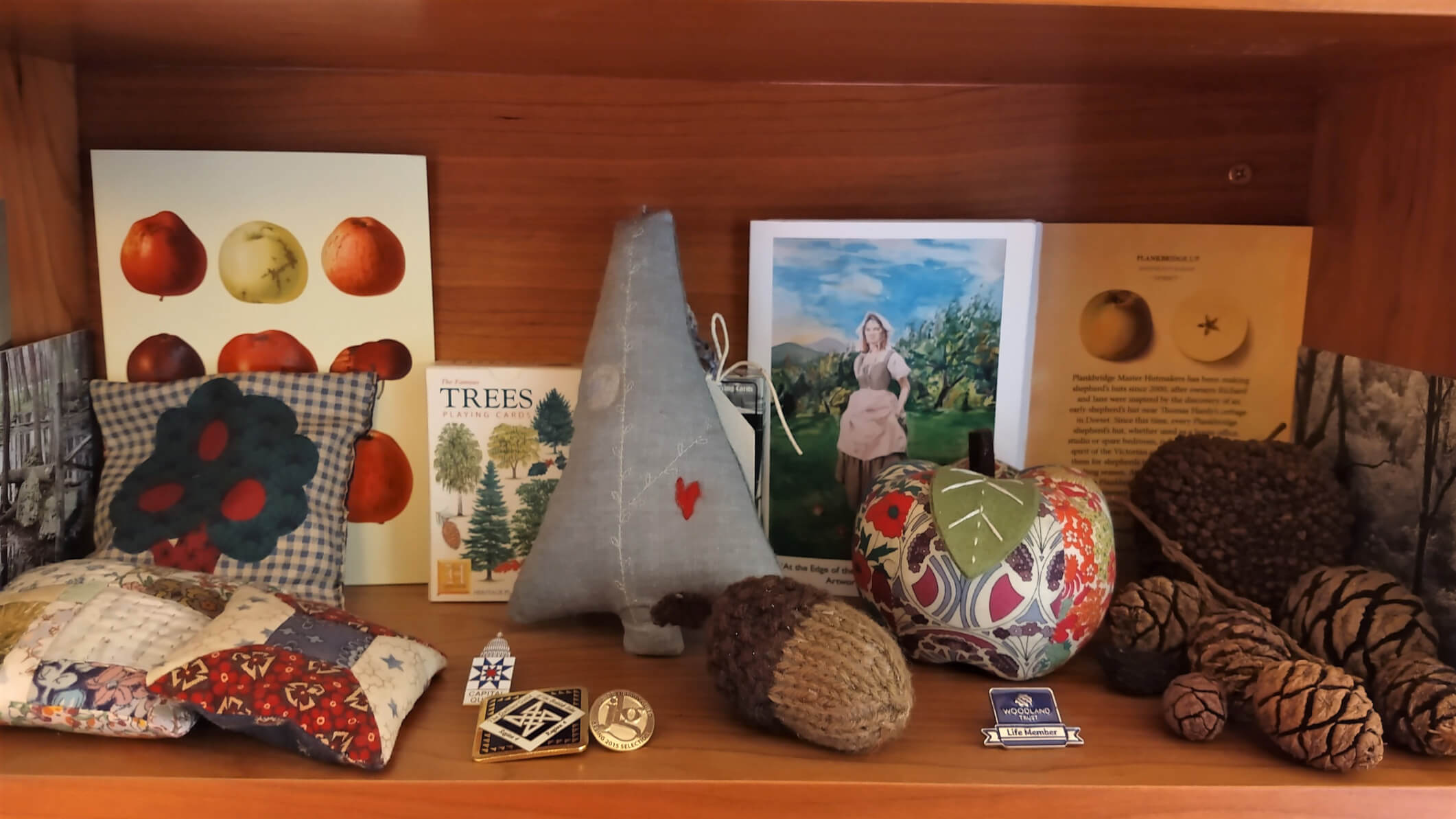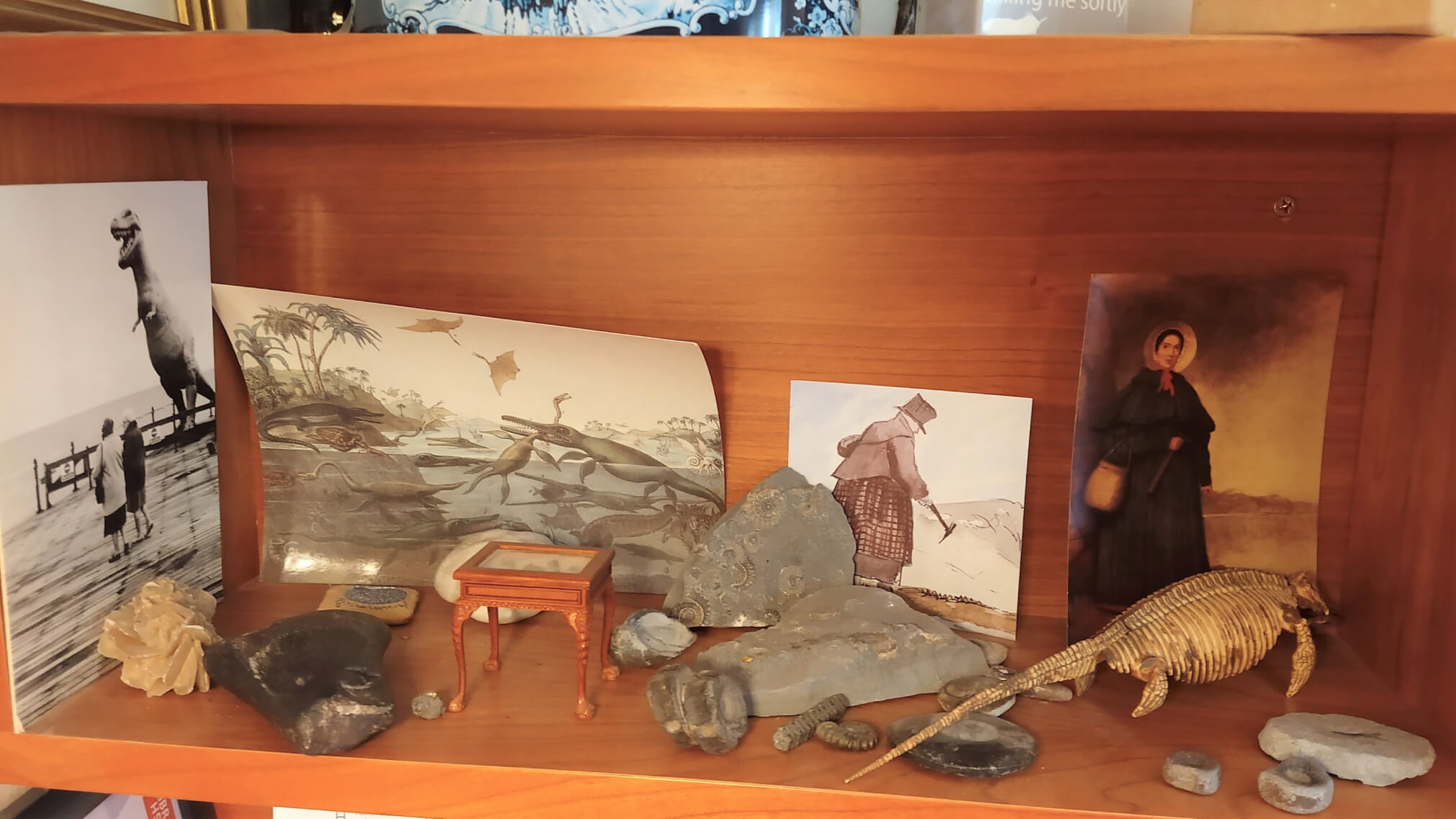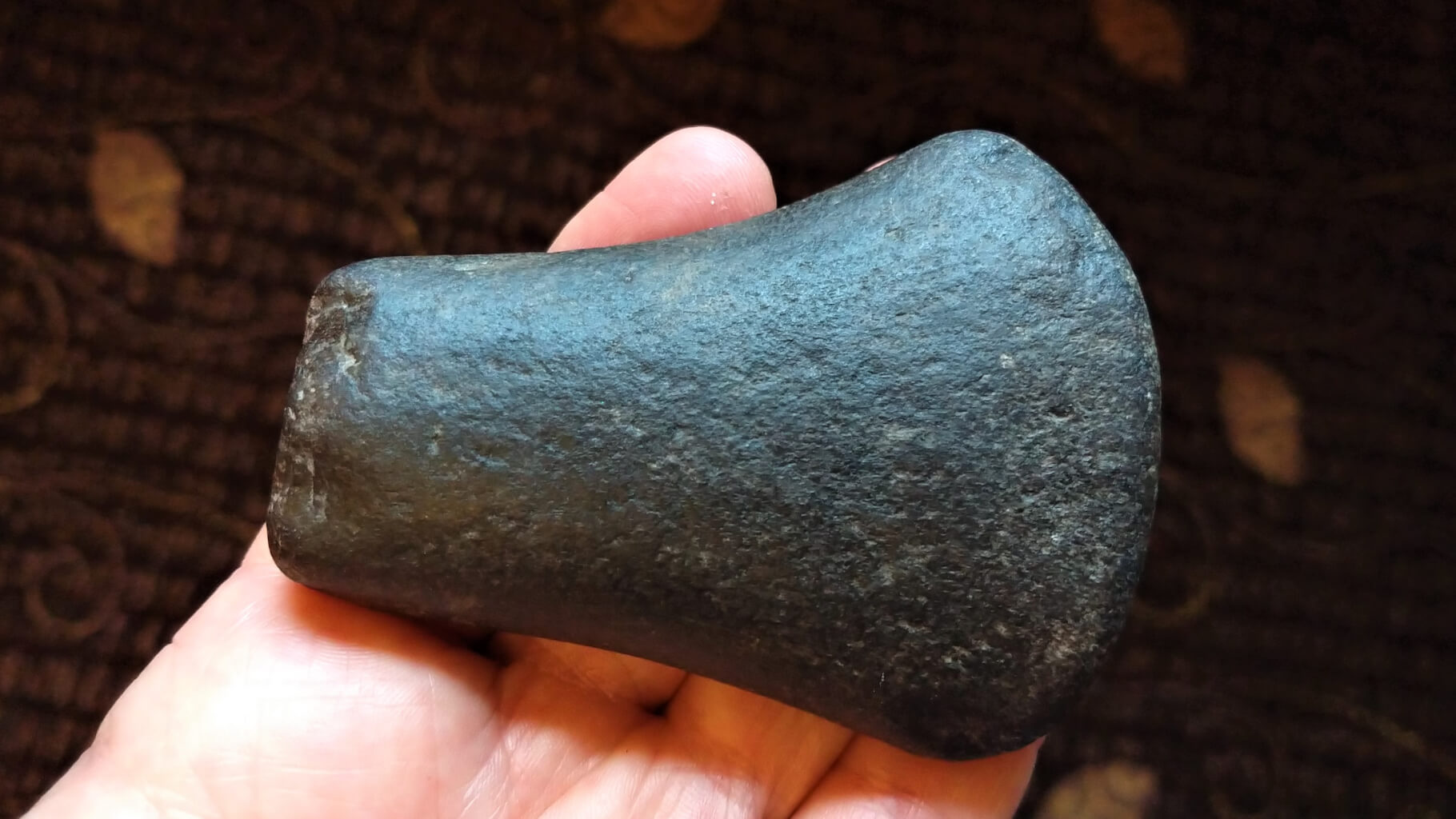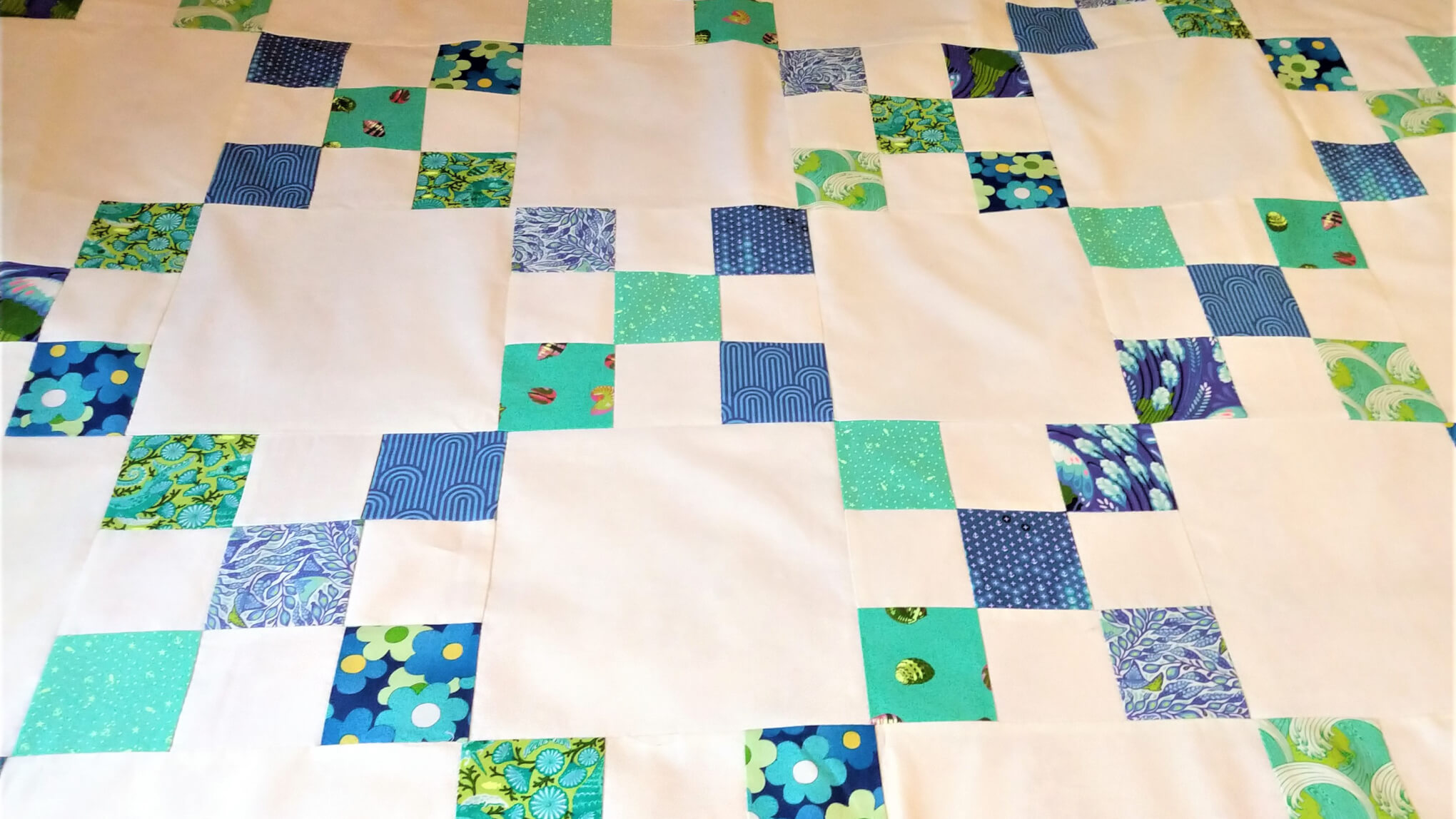 One of the reasons I like doing quilting and other things is that I don't actually have to be good at it. You know, I'm a writer who's expected to write good novels now, but nobody expects me to make a good quilt now. And it's like, ha! The pressure is off.
Writing Advice & Tips
Tracy Chevalier considers the most essential ingredients in storytelling:
It's a marriage of a good story and the way it's told. So it's what you say and the way you say it. And the two of them intertwine to make the book more than the sum of its parts.
And recommends getting in front of an audience as soon as possible:
I think one of the things you have to crack early on is that you're writing for other people, not just for yourself. And you don't really know whether a book or a story works until somebody else reads it. So I would say get yourself an audience pretty early. If that means taking a course, it doesn't have to be an MA in creative writing, like what I did. You know, you could just get a group of likeminded people together who are all writing and share writing with each other and do constructive criticism with each other.
Can you ever know your book will be a bestseller?Listen to the full episode to hear what Tracy has to say…
Saying No (more often)
The pandemic has given us all time to reflect and consider what we want more of (and less of) in our lives. How do we want to live… going forward? Tracy has realised that she really loves unstructured time and wants to actively create more of it by saying no more often.
How could you say no more often? Next time you consider taking on a new project or are asked to do something, pause and think about why you would do it… Would you earn, learn or do good? Would you feel adequately compensated for your time and energy? If not, dare to say no.
I'm trying really hard to be more mindful about what I say yes to. So maybe that just means blocking off a day where I don't put any meetings scheduled into it. If I like those free days so much, I should create them. I can actually actively create them. It's not that difficult to do it. I really love unstructured time and I need to start feeling a little less guilty about it.
Style Notes
Just because everyone else says you should do something, it doesn't mean you need to follow their advice. Like Tracy, you can choose not to wear red lipstick. You can make your own style waves.Listen to the full episode to hear more of Tracy's personal "style rules" and thoughts about colour.
Top Tip: RevitaLash is the way to go for fuller lashes. Perfect for women after menopause or anyone who would like to boost their lash game. Tracy swears by it and says it's why she gets complimented for her amazing eyelashes. Just make sure you try it for at least three months. Tracy emphasises that you need to persevere…
"You have to do it for at least three months, and then suddenly they grow much more and you get your lower lashes back and your upper lashes get longer. I used to put it on every night. Now I do it every other night just to top it up".
I often read articles saying red lipstick is perfect. Anybody can wear it and it just gives you great pop of colour. And I cannot be getting on with red lipstick. It just doesn't work for me. And I think that's a really important lesson is that you can hear this from brands, from ads, from articles, from your friends, from all kinds of people saying you should do this, but actually you kind of know best because you see yourself more than anybody else does.